Madam Brulee
Mysterious messy madam from mainland Europe
Propriéire du vignoble a perdu de la Loire!
In the vineyards of northern France they still tell the tale of Madam Brulee, the fabulously wealthy owner of the legendary Lost Vineyards of the Loire, hidden by deep magic from the outer world many years ago, and said to produce wine so fine that Bacchus himself is among the customers.
The lady herself, like her vineyards, vanished from public view shortly after leaving finishing school, but she has been known to appear, at random, at the homes of other aristocrats, bringing bottles of the most extraordinary vintage, wine that leaves all who taste it aglow with its potency and its unearthly sweet flavour. All she asks in return is a comfortable bed for the night, and an evening of revelry with whichever household she has graced with her presence.
Needless to say, the evening she appeared at Saturation Hall, the household was more than happy to oblige!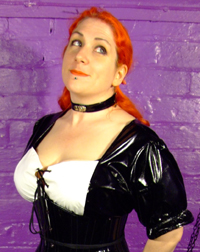 Madam Brulee