Prudence
The Housekeeper
Now girls, that cake is for wearing, not for eating.
Prudence is Lady Jasmine's housekeeper, nominally in charge of most of the household staff and responsible for the smooth running of the mansion. And for ensuring we never run out of gunge. This latter task takes up a significant amount of Prudence's time, something that's exacerbated by her instance on regularly testing batches of things on herself, her uniforms, and indeed a wide range of her own clothes.
Dedication like that cannot be bought, and her ladyship is well aware of how lucky we all are to have Prudence here with us, something that's always reflected in the Hall's midwinter celebrations, when Prudence takes pride of place in a large tin bath filled with gunge of her own choosing, in the middle of the great hall, where she's waited on by the rest of the household, and gets to direct the order in which everyone else gets to fill their clothes with goo.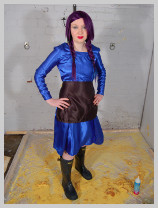 Prudence
the housekeeper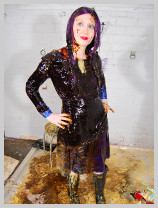 Sticky Prudence
approves this batch
I wonder how
gunge-proof
this coat is?